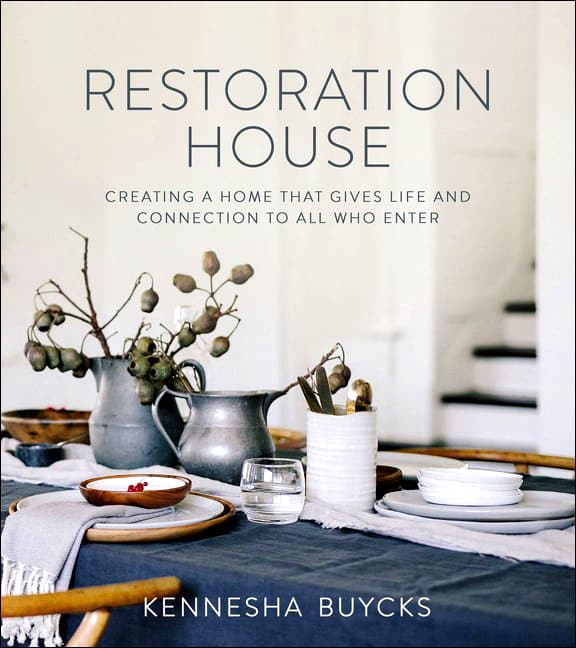 Restoration House Book
$32.00
Kennesha Buycks, creative genius behind Restoration House Interiors, is a well-connected, up-and-coming voice in the design community. With her emphasis on creating beautiful, meaningful spaces for connection, her first book, Restoration House, will inspire readers at many different stages of life. This book includes writings on connection and restoration, as well as styling and decor tips.

Restoration House is about creating a home filled with places and spaces where people can feel secure, connected, revived, and renewed. Extending far beyond any particular "look," Restoration House illustrates how homes can serve as a source of restoration, joy, and peace in the midst of busy lives. It will feature practical design ideas and tips to show readers how they can use their homes to facilitate connection with loved ones and foster community. Readers will enjoy the four-color photography, tips, and tricks to create a restorative, welcoming space for loved ones to enjoy.

At its core, Restoration House encourages readers to make their homes beautiful to help foster community and create a restful, joyful space for their own hearts. Kennesha will walk readers through her personal journey and how she learned to prioritize creating a peaceful, restored space for her family. The beautiful design of the book, in addition to heartfelt essays that touch core felt needs among readers, will make Restoration House a manual for more than just decorating, but for truly creating a mindful home.

About the contributor(s):

Kennesha Buycks is the founder of Restoration House Interiors. A southern transplant to the Pacific Northwest, she has a heart and passion for connecting others, gathering, and seeing those around her flourish in ways they could never imagine. She often expresses this passion through various creative mediums, including inspirational styling and design. Her Instagram, @restorationhouse, has more than 50,000 followers. When Kennesha is not busy being a wife to her amazing husband or a mama to her four kids, she spends her time writing, blogging, and encouraging others to live life uniquely and with passion.
Hardcover
226 pages
8" x 9"